Manicures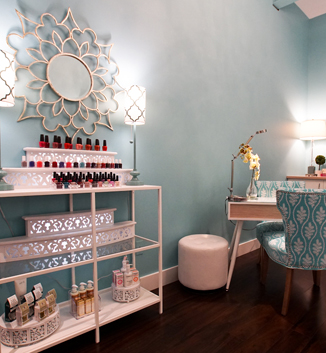 With almost every movement of our day, we stretch and scratch the skin and nails on our hands. At NailTyme with Carrie, I make sure to treat your hands with the delicate touch they deserve. Your nails and cuticles are cared for while I apply warm mitts to your hands, all while you bask in the warm comfort of my salon. Plus, all polishes are "3 Free or 5 Free," and do not contain the harmful chemicals formaldehyde, formaldehyde resin, camphor, DBP, or toluene! And don't hesitate to add in a relaxing pedicure or specialty nail treatment to your manicure!
I am available for any questions on the services below. Stop by the salon for a consultation, or contact me via telephone or e-mail!
My Manicure Services
Spa Manicure – 45 min. – $35.00
Settle in for my signature manicure! I trim and shape your nails, then massage your skin followed by a Zoya, essie, or OPI polish application.
On-The-Go Manicure – 30 min. – $25.00
Need to have your cuticles cared for, but short on time? My On-the-Go Manicure is for you! Indulge in the bliss of my Spa Manicure in only 30 minutes! Perfect for your midday lunch break or during weekend errands.
Buff & Shine Manicure – 45 min. – $30.00
Enjoy a full manicure service as your nails are buffed to a high-gloss shine. No polish applied.
CND Shellac Manicure – 60 min. – $45.00
CND Shellac is an excellent, high-gloss nail polish that goes on easily and is just as easily removed! Plus, it can take the hazards of your day without losing any of its illuminating shine!
Six Reasons to Go with CND Shellac:

Effortless, glide-on-application
14 plus days of high-performance wear
Stunning crystal shine
Cured with LED light
Amazing five-minute removal
No nail damage
CND Shellac Luxury Manicure – 75 min. – $55.00
Need to relax the tension and stress built up in your hands and fingers? The Luxury Manicure is for you! Imagine…a warm-oil moisture bath that conditions and nourishes to create a lavish sensation that soon won't be forgotten. Experience a luxurious hand treatment that gently polishes your skin. Next, a shimmering liquid gold masque refines and conditions. Last, but not least, enjoy a silky-smooth hydrating hand lotion that is quickly absorbed into your skin, leaving a soft, satin feel!
CND Buff & Shine Manicure – 60 min. – $45.00
The same treatment as my Luxury Manicure, without the nail polish!
Add On Services (all manicures):
Guava Passion Moisture Masque by Zoya – $10.00
Hydrates, rejuvenates, and brightens skin to a glowing and youthful appearance. 15 min.
Softening Hand Masque by essie – $10.00
Removes skin impurities for an exquisite exfoliating cleanse. 15 min.
Chamomile Mint Mask by OPI – $10.00
Shea butter extract ultra-hydrates and helps soften with botanical extracts. 15 min.
*Note: Please schedule an extra 15 minutes for shellac removal if necessary. There is no charge for this removal.